I don't have an instagram account. Â If you go to www.instagram.com/russhollanderk you will see an account using my image and listing my website address. Â I did not set this account up, and this is not me. Â I am not this person. Â I found out about it when friends of mine in the real world told me they were following me on instagram.
Instagram's "help center" or whatever is being anything but helpful. Â In addition to having no phone number or email address or whatever, their annoying form to dispute this account isn't working. Â And they're demanding that I send them color photos of government issued IDs. Â Well, I don't like that, but I'm trying to do it. Â And they won't let me.
The impersonator doesn't appear to really be doing anything. Â I'm wondering if Facebook just decided to create this account for me. Â If that's the case, they need to let people know they're doing that. Â Instagram needs to make their support and help pages actually useful.
I'll post another update whenever this situation resolves itself, if ever.
Update 10:42
I think I finally got the form to submit on the official instagram help page, so hopefully the ball is rolling. Â I also tweeted @Instagram and @Instagram help to try to move things along. Â I have a feeling I'll get faster action that way hopefully. Â I'm sure the Instagram app and website are dandy, but I don't use that service, and don't want anyone using my image, likeness, and name out there. Â People that do use Instagram love it, and I'm sure their support is good, and the problem I was having submitting the dispute form was on my end. Â Further updates to come.
Update 10:51
Got an email from the Instagram support after submitting the form finally worked. Â I emailed them back with the exact same info I had submitted, just to be sure. Â I'm sure they've got the ball rolling now. Â Hopefully this will be done quickly. Â Below is a screenshot of the imposter account, just for fun.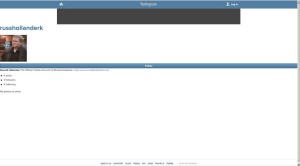 Update 10:57
Just an observation, not really a development. Â The Instagram dispute form wanted color copies of a government issued ID where they can clearly see my name and so forth. Â Well, in addition to my driver's license, I keep my passport in my work bag. Â My girlfriend thought it was weird to have that on me. Â Maybe that isn't smart, but I always know where it is. Â And it came in handy today. Â I know I'm me, and I have two forms of gubmint ID to prove it, basically at all times. Â I've got my social security card on me too, come to think of it. Â Right behind my fishing license in my wallet.
Update 4:30 on 4/19
Overnight I got an email from Instagram saying the fallacious account was deleted. They didn't elaborate on whether an individual was responsible, or if it was something created automatically, which is a theory that seems more and more likely. Also, I'm making this update from my phone. This is my first time using WordPress as an app on my phone. Seems pretty good so far.