The biggest story in my life in 2014, and for the rest of my life going forward is Shannon. We met through mutual friends through Vineyard Church in 2012, and started dating in June of 2013. Shannon is the Nursery and Preschool director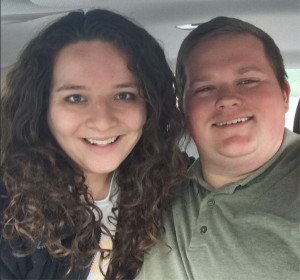 at Vineyard Church KC North and a Psychology major at Missouri Western State University in St. Joseph, MO.
As she'll tell you, when we first met, Shannon didn't like me much. As time went on, she didn't really know what to think about me, but eventually decided I was an OK guy most of the time, except when I wasn't.
A couple days after Shannon's birthday in June 2013, some mutual friends got together at Buffalo Wild Wings to celebrate her turning 21. As the night wore on, people gradually filtered away, and finally I walked her out to her car. We kept talking for probably another hour, and I asked her out. We went on our first date to Brio Italian Restaurant on the KC Plaza, followed up by desert at Yoghurtini. On a subsequent date, we went to the Independence Day fireworks show in Parkville.
A common theme on most of our early dates was running into someone she knew from church. Some of our other notable dates in 2013 were a weekend at Table Rock Lake with friends for Labor Day, a trip to see the Hornet Spook Light near Joplin (it's real!), a trip to Augusta in the Missouri Rhineland for some wine tasting and a visit to St Charles, and a trip to St. Louis to go up in the arch and watch the Rams stomp on the Saints (which is something they need to do to more teams next season).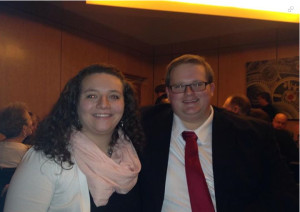 By February of 2014, we had started talking about our vision for the future, and we both knew we wanted to be married and spend the rest of our lives together. We knew we needed to wait a bit longer since we'd only been dating 8 months at that time, but we didn't want to keep putting off our lives on hold for too long. I started making plans. Shannon wanted a less vague plan for the future, so I finally gave her a one month range of time she might expect a proposal, some time between May 15 and June 15.
I started planning what our engagement would look like. I didn't want to do anything showy and public like a flash mob, I just wanted a beautiful private moment for us. I was talking to my friend James because he and I spit balled ideas for his own engagement previously. He reminded me of the Japanese Stroll Garden in Springfield that we had tried to visit once back in college, so I made a trip down to Springfield to do some recon. I left at 4:30 AM, got down to Springfield, and we scouted the location. It was perfect. We figured out a good plan of execution, and all that was left was to play the waiting game. To cover my tracks, I solicited another friend to tell a little white lie with me that we were at his place smoking a brisket all day that day.
Now I just had to secure Shannon's father's blessing. As luck would have it, he was down at Lake of the Ozarks with his parents cleaning up a piece of property on the weekend of Mother's Day. My parents also live at Lake of the Ozarks, so I "went down to the Lake for Mother's Day" and ultimately to St. Louis later that weekend to celebrate Mother's Day for my Grandma with my extended family, and this provided a good cover to stop by Vince's parent's place to ask his permission to marry Shannon. Vince gave me his permission, and agreed to only tell Shannon's mom Janeen, and after that I went over to my parent's house without mentioning anything to anyone else.
The next weekend, Shannon and I went down to Springfield for my sister Emily's graduation ceremony. She had just completed her Master's in Public Administration at Missouri State University. The plan was after the ceremony we were going to meet up with James and his wife Kaitlyn. After the ceremony and dinner with the family, we were on our own. I told Shannon that James wasn't ready for us yet, so we had some time to kill. The sky was gray, and it looked like it was going to rain at any minute. I told her we would go check out the Japanese Stroll Garden, and she reluctantly agreed, but wasn't too excited about it.
We entered the garden and were walking along, and finally stopped on this bridge over a little pond. Much to Shannon's surprise, I got down on one knee and asked her to marry me. She said yes! She told me later that while we were walking through the garden she'd been thinking it would've been a great place to get engaged, but that she was completely surprised when it happened. The date was May 16, one day into that one month range I gave her before.
Later we went out to the Mud Lounge in Downtown Springfield and met up with Kaitlyn and James to celebrate, and Shannon got her second surprise. James and Kaitlyn were hiding in the bushes photographing the whole thing. It turned out thinking back that Shannon had seen someone moving around in the distance that was James, but she hadn't realized it at the time. The next morning we got breakfast with my sister at Gailey's and told her we were engaged, and then told the rest of our family and friends later that day.
We got married on Friday, December 12, 2014. Thanks to Alicia and Garrett Van Gotten of We Design Weddings for creating our invitations. Thanks to our friends and family for being supportive participants in our wedding ceremony. Roger Wilson of Vineyard KC North was our officiant, and is also Shannon's boss. The bridesmaids were Sydney Ward the Maid of Honor, Janica Lowry, Emily Hollander, and Lynsey Lowdon. The groomsmen were James Den Beste the Best Man, Neil Sickendick, Garrett Van Gotten, and Zach Shipp. The Flower Girls were our grandmothers, Vicki Shipp and Kitty Ott. Grandma Ott also recorded a couple piano tracks we used during the ceremony. Thanks to Adam Page for being the sound guy at the wedding, and for introducing me and Shannon back in 2012. Thanks to Tierra Fielder of Picture To The T Photography for taking our engagement and wedding photos. Finally, thanks to our loving, supportive parents Vince and Janeen Shipp and Gary and Nancy Hollander for being great examples for us, and for funding our wedding rehearsal and wedding ceremony.
After the wedding, we went to the Riviera Maya in Mexico for our honeymoon. We stayed at the all-inclusive Valentin Imperial Maya resort for 5 days, and it was wonderful. In addition to some great times at the beach and the pool, we had the opportunity to visit the Mayan ruins at Chichen Itza, and to take a boat tour where Shannon did some snorkeling and petted a sea turtle (snorkeling turned out not to be my thing).
Now that we're back in Kansas City, we've been enjoying a bit more time off before returning to work and school. Shannon is making our house into a home, which is great since I lived a pretty spartan barbarous bachelor lifestyle before. Thanks again to all our friends and family who have been with us from the beginning, particularly those who gave us so many wonderful wedding presents that we're already making good use of. We're looking forward to a lifetime of happiness yet to unfold.